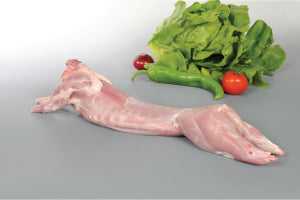 Rabbit, whole (without head), frozen
Rabbit, whole (without head) from Hungary!
Rabbit meat is considered a healthier meat due to its high protein and low calories content. Tender and delicate in flavour, it is also one of the most versatile meat and is now popular among chefs and home-cooks.
The animals are fed exclusively with untreated forage, hay and are free from GMOs.
You can find the different cuts of rabbits at the frozen area on level one. We are also making home-made rabbit sausage and rabbit rillettes. Find these on level two.
---
More from this collection