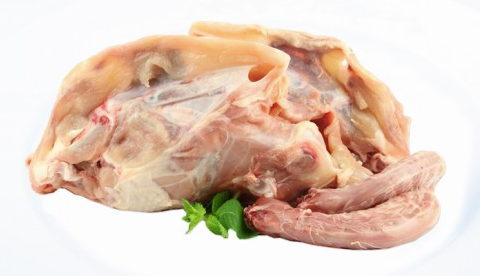 Fresh Organic (Halal) Chicken Carcass / Bones (Malaysia), 500g pack (3-4 pcs)
Our Lacto (Organic) / Halal Certified Carcasses / Bone Broth (clear) have many Benefits: Minerals. Aside from the benefits of all the proteins and sugars, and whatever nutrients might be hiding in the marrow, bone broth is extremely high in minerals. Bones from land animals are rich in calcium, magnesium, potassium, and phosphorus, and fish bones also contain iodine.
3-4 carcasses/500g pack
Raised with advanced farming technology (Lacto Chicken method), our Chicken are reared in a temperature-controlled and hygiene environment with clean water & ample space (football field, around 125m long and 15m wide) for them to freely roam about, to the soothing strains of classical Mozart music (true story!). The meat contains less fat and cholesterol, and packs a greater flavour too.
Benefits of Our Chicken
Maximum 5 days fresh shelf life (best before date) 
Raised in Malaysia but processed in Singapore

Halal Certified

Certified Organic/Lacto
Fed With Lactobacillus
Less Fat & Cholesterol*
Tasty & Nutritious
Farmed Without Using Growth Hormones & Antibiotics
*As compared to normal chickens
Suitable for any style of cooking
Lacto Chicken method is an ethical and a clean process of rearing chickens while avoiding the use of growth hormones and antibiotics. The method promotes boosting the chicken's immune system naturally by adding lactobacillus in their diet. The farm is quiet compared to others which clearly shows that the chickens are under hardly any stress and, therefore, happy chickens. Our local farm uses the American chicken which are grown to 46 days to reach 1.5 kg and above, respectively. 
Chicken Bone Soup Stock Recipe
---
More from this collection