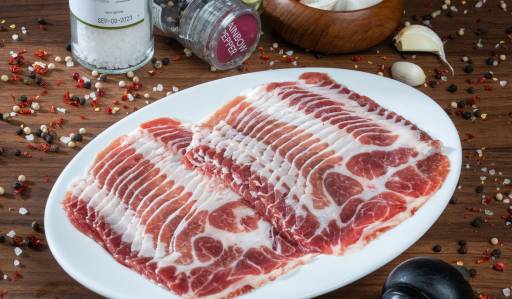 Iberico Pork Collar Shabu Shabu, 250g, frozen
Spanish Iberico Pork Collar Shabu Shabu - Speckled with fine marbling, a melt in the mouth delicacy paired with a piping hot steamboat dinner!
Traveling through the country side of western Spain, one would easily spot clusters of acorn trees peppered over the landscape. The unique habitat forming the dehesa provides the ideal conditions for Iberico Pigs to thrive. The seasonal acorn bearing trees provides the Iberico Pigs with antioxidant rich nutrients. While the pigs forage - clearing out saplings and other species of plants that may contest the unique habitat. The symbiotic relationship between the Iberico Pig and the western lands of Spain creates the perfect environment for raising great Iberico Pork.
Always Tender

Thickness ~1.5-2mm 

Product of Spain
Recommended Cooking Time: 10-12 seconds dip in broth.
---
More from this collection